I am always curious about what health-conscious people eat, so I thought some of you might feel the same way!  This is such a "thing" that the wonderful folks in internet-land have "What I Ate Wednesday" or WIAW…so, if you like it, run that through Google and feast on those results.
Anyhow, here's a recap of what I ate yesterday.  These meals and snacks aren't meant to be guidelines for you or anyone else, and please remember to consult with an appropriate specialist for nutrition advice.
Pre-Workout: 1/2 banana, 20 almonds, protein shake (made with water)
This was my fuel for my early morning circuit workout with my own trainer.  I usually prefer more carbs before that workout, but I'm trying something new for March.
Post-Workout: protein shake (made with water)
Recovery!
Breakfast: Protein scone (recipe below), plain yogurt with blackberries
Lunch #1: Turkey wrap made with sliced turkey and a little bit of mayo, wrapped in romaine leaves
Lunch #2: 1/2 banana with peanut butter, 20 almonds
This was my fuel for my evening Zumba class.
Dinner: 3-egg omelet with lots of spinach, spinach, cottage cheese, and a slice of turkey; a corn tortilla on the side
I was really feeling the lack of carbs after Zumba, so I added the tortilla for extra deliciousness.
Dessert: greek yogurt with berries, chocolate protein powder, and some shavings of 100% dark chocolate
I am a huge fan of dark chocolate – the darker the better – and though it might sound crazy, I've really been enjoying the 100% bar I picked up last week.
Totals: 1820 calories, 88g carbs, 76g fat, 201g protein – a little low, but time got away from me before I could eat something real for lunch #2.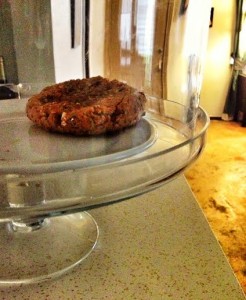 So, protein scones. Please forgive them for not being very photogenic…they are tastier than their extra-healthy nutrition stats would suggest. I have made a million variations on these scones, because they keep well and are easily adapted to what you have in your pantry.  It's not a bad idea to make a batch Sunday night and have them around for the week!
Makes 6 scones
Ingredients (for this week's variation)
12 tablespoons pea protein (3/4 cup)
1.5 cups oat flour (grind oats in a food processor)
.5 cup stevia or sweetner of choice
2 eggs, beaten
pinch of salt
(optional) mix-ins of your choice: chia seeds, raisins or other dried fruit, chocolate chips, cinnamon, ginger….
1 tablespoon turbinado sugar
Method
Preheat the oven to 350. Line a baking sheet with parchment or a silicone mat.
In a medium bowl, mix the dry ingredients (protein, oat flour, and stevia).
Add the eggs and stir well to incorporate. The batter might seem dry – keep mixing! If things seem hopeless, add 1-2 tablespoons of water.
Stir in the salt and any desired mix-ins.
Form the dough into 6, 3/4″ thick scones – round, triangular, heart-shaped, your choice! Top each scone with a small sprinkle of sugar, pressing down lightly to help it stick.
Bake for 15-20 minutes or until the edges are just brown. Do not overbake – protein powder goes from tasty to rock-hard in the oven with no warning.
I add the sprinkle of real sugar on the top so that it makes more of a taste impact than if it were stirred into the dough.  It also pretties up this homely little treat.