EDITED: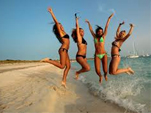 This offer has now expired but new specials are coming soon.  Call or email Tiny Fitness to talk about how to reach your health and fitness goals in the meantime!
Are you ready for summer?  If you start now, you can still reach your goals!
For a limited time, Tiny Fitness is offering the Summer Shape-Up package.  You get:
20 fitness classes
initial training consultation
1 personal training session
…all for only $165!
Ready to get started?  Visit the studio schedule and choose Summer Shape-Up Special from the Fitness Classes list, then call 713 459 6817 to schedule your consultation.
Offer Details
This offer can be used by anyone who has not previously participated in personal training at Tiny Fitness.  The initial consultation must be completed prior to your personal training session.  All Summer Shape-Up package components (fitness classes, consultation, and personal training session) must be used within 8 weeks of your first Summer Shape-Up package class visit.  The Summer Shape-Up package is available for purchase from April 23, 2014 through May 1, 2014.  Contact Tiny Fitness for additional information.