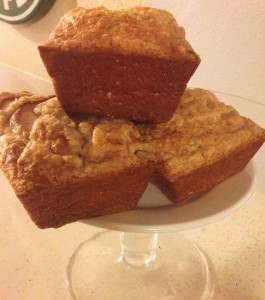 It is a rare day when I say you HAVE to make something, but these magic little loaves that somehow taste like croissants have made my whole weekend perfect.  Juicy pear surrounded by light, fluffy dough that sparkles with bursts of cranberry and pecan…and the hands-on cook time is about 3 minutes.
All of my recipes are gluten-free because I am allergic to gluten.  You can substitute other gluten-free on gluten-filled flours as you desire, but the outcome may be slightly different.
Ingredients
Dry Ingredients:
1.5 cups oat flour*
.5 cup tapioca starch
.25 teaspoon salt
1 tablespoon baking powder
2-3 packets of stevia
.25 cup sugar
.25 cup dried cranberries
1 tablespoon chopped pecans
Wet Ingredients:
.5 cup water
.5 cup milk
1 egg, beaten
.33 cup greek yogurt
2 teaspoons vanilla extract
1 pear, grated
1 pear, sliced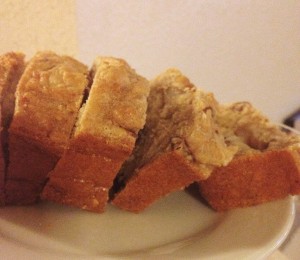 Method:
Preheat oven to 350 degrees and grease 4 mini loaf pans (or 1 large loaf pan).
Combine the dry ingredients in a bowl; set aside.
Combine the wet ingredients except for the sliced pear; set aside.
Add the dry ingredients to the wet ingredients.  The batter will be thin.
Divide the batter evenly among the prepared pans (or pour into pan for large loaf).  Top loaves with sliced pear.
Bake mini loaves for 35-40 minutes (large loaf for 45-50 minutes) or until they have risen and their edges are lightly browned.
Cool loaves in their pans for 10 minutes, then finish cooling on a wire rack.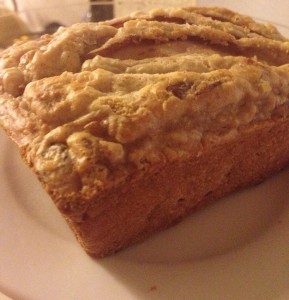 *To make oat flour: process rolled oats in a food processor or blender until ground into flour, 2-3 minutes.