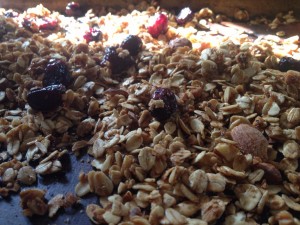 I love making my own granola!  I get to blend my favorite flavors, keep the sugar content reasonable, and eat the big clumps while they're fresh out of the oven.  I use this granola to make yogurt parfaits, to eat with fruit for breakfast, or to munch on during road trips.
Ingredients:
3 tablespoons agave nectar
1/4 cup coconut oil
1/2 teaspoon salt
3 cups rolled oats
1 cup chopped almonds or pecans
1/4 cup chia seeds
1/4 cup dark brown sugar
1/2 cup dried fruit, such as cranberries, raisins, blueberries, mango, etc.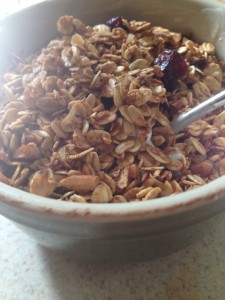 Method
Preheat the oven to 250°F.
In a large bowl, combine agave nectar, oil, and salt.  Add the oats, nuts, chia seeds, and brown sugar.
Mix well and pour onto a sheet pan, patting into an even layer.
Cook for 35 to 45 minutes, stirring two to three times to brown the granola evenly.
Remove from oven and add dried fruit. Mix to distribute dried fruit while granola is still warm.
Allow to cool, then store in an airtight container.