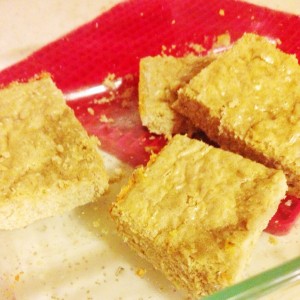 Ready to start the new year with some poorly photographed but delicious protein bars?  Would it help convince you if I told you they contain only five ingredients (six if you're fancy)?  These minty squares are great snacks for after your strength training sessions or when you're on the go and need a healthy option.
Ingredients (makes 8 servings):
4 scoops vanilla whey protein powder
1/2 cut oat flour (grind oats in a food processor)
1 egg
coconut milk, water, or other milk as needed to form a stiff batter (about .25 – .5 cup)
1/4 tsp peppermint extract
1/2 tsp vanilla extract (optional)
Directions:
Preheat the oven to 325 and grease a square baking dish (8 x 8 or 9 x 9). Mix all five or six ingredients together in a bowl until well-combined, then press into baking dish (batter should be thick, but a thinner batter simply requires a longer baking time). Bake for 12-15 minutes or until edges begin to look dry. Cool in baking dish, then cut into 8 bars. Store cooled bars in the refrigerator to preserve freshness – and wrap them individually for convenience!