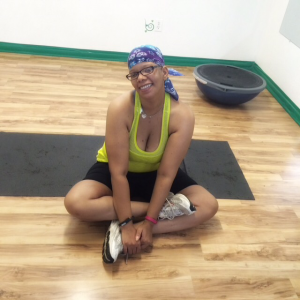 This week rocked! I really am enjoying walking. I am doing twice a day often and I feel like it's helping my mood. Seriously! I have never been an outside person, but I honestly enjoy taking my daily walks and enjoying this beautiful weather. I have a gym membership and I used to walk on the treadmill there, but walking outside is so much better. It's good for me physically, it has become something that I look forward to, and it helps me appreciate the beauty of creation.
So, let me back up. It rained some last week, and on the days it didn't rain, it was yucky outside. I still made up my mind that I was going to get all my walking homework accomplished. On the days it rained, I went to gym and on the days it didn't I walked outside…simple, right? I am choosing not to complicate my life and my fitness/health routine. I am keeping things simple and doing my best.
When I arrived to Tiny Fitness to work out with Elizabeth, I was actually in a bad mood. I had some things on my mind and was a little stressed. I expressed this to Elizabeth and she did three important things:
1) She listened
2) She celebrated me accomplishment in exceeding my required walking by 20 minutes and
3) She told me that I could use the time with her as a "mental time out". I didn't have to think about all the things I needed to do, or appointments, or family.
I used the time to focus on me and getting healthy. She set up some circuits that I enjoyed and she capitalized on the two things I enjoy working with – the stability ball and the TRX. I worked hard and concentrated on doing my best.
I am consistently seeing that my "do my best" attitude is really becoming something I focus on in all I do. This health thing really is a lifestyle change. You don't have to change all at once, but making tiny consistent changes in your lifestyle will produce BIG results.
Note from Elizabeth: I wanted to let Brie's words shine even more brightly this week, because she is really cultivating a winning attitude that we can all learn from.  Progress doesn't happen through perfection – it happens through consistency, which is all too rare!  Brie has really committed to making her life even more healthy, and the changes that she is making are really adding up!