These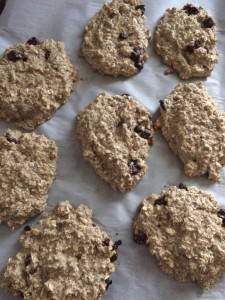 cookies were part of my meal prep this week…time is not on my side so far to get the full prep written up, but here's the cookie recipe in the meantime.
I give these cookies a B+, health-wise; I don't love baking with protein powder (heat + protein = not the best for you), and I think that quinoa flakes are a little bit on the processed side, but when you compare these to the alternative…eat up!
Note #2: I use a protein powder that is already sweetened.  HOWEVER, if you use brown rice or pea protein that is NOT already sweetened, add in about 4 packets (or 1 teaspoon) of stevia in the raw.  These cookies are not "sweet", but they're not meant to be.  They're for breakfast, and you're an adult 😉
Quinoa Oatmeal Breakfast Cookie Ingredients
(Makes 8 servings at about 200 calories per serving, with about 30g carbs, 3g fat, and 12g protein)
1-2 tablespoons chia seeds
water, as needed
3 cups rolled oats, ground in food processor to make flour*
3/4 cup quinoa flakes
3 scoops (60g) protein powder – I use vanilla whey, you use what suits you and add stevia per the note above if needed
1/4 cup dried cherries
2 tablespoons dark chocolate chips (optional)
1 teaspoon vanilla extract (very optional)
Method:
Preheat the oven to 350 degrees and line a baking sheet with parchment paper or a nonstick silicone sheet.  (Parchment is GREAT, lazy cooks!)
In a large mixing bowl, stir together the chia seeds and enough water to cover them by about 1″.  Let them "bloom" while you…
…Grind the oats in the food processor to make flour.  This flour isn't a sifted, milled, fussy flour…this time it's chunky, oaty, and substantial.  Let it be.
Stir the oats, quinoa flakes, and protein powder into the chia seeds, adding water 1/4 cup at a time to make a medium-stiff dough.  (If you add too much water, just hang on for step 6.)
Stir in the cherries and, if using, chocolate chips and/or vanilla.
IF you eyeballed the water correctly, spoon the batter onto the prepared baking sheet to make 8, 3″-4″ "cookies".  They will neither rise nor spread, so form them into the shapes that you desire.  IF you added too much water, leave the prepared baking sheet aside and pour your mixture into a baking dish; it will still bake up great, so just cut it into 8 bars when it's done baking.
Bake about 25 minutes or until the edges are brown and the tops are set.  Baked goods that contain protein powder dry out with NO warning in the oven, so as soon as the edges start to look golden, take 'em out.  Cool, then store in the refrigerator (or freezer).
Customize as you see fit, but keep an eye on your nutrition stats to make this recipe work for your macronutrient needs!  There's no one-size-fits-all serving size for any food product, so do what is best for you. <3