Nothing complicated – just a few ways to get more summer veggies into your life, a.k.a. my survival strategies for my overly plentiful farmshare!  Sorry about the gross iPhone photos…if only I had time for beautiful food photography every day.  But you get the idea, I hope!
Stuffed Peppers
I made two versions of these, but you can modify the fillings to suit your tastes and nutritional needs. If you don't like peppers, hollow out some halved zucchini and bake up some zucchini boats!
Ingredients:
Peppers, halved and seeds/membranes (ribs) removed OR squash, halved and insides scooped out (and set aside)
Rice or quinoa, cooked and seasoned
Chopped veggies – squash, onions, carrots, whatever is around
Shredded chicken or other meat and/or tofu, cooked and seasoned
Goat cheese (optional)
Egg or egg white, beaten, optional (to help the filling hold together if you're not using the cheese)
Method:
Preheat oven to 350 (or not – you can save your stuffed peppers, unbaked, in the fridge until you're ready).
Prepare your peppers or squash boats; salt them lightly.
Mix up 1/4 cup of rice per pepper plus as many chopped veggies as you can fit, along with the protein you may or may not be using.  Stir in the goat cheese and/or egg.
Stuff each pepper or squash; arrange in baking dish and bake now or bake when you're ready for 30-45 minutes or until peppers have softened and begun to brown.
Veggie Breakfast Casserole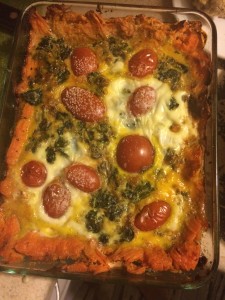 Sweet potato crust + eggs and more veggies in the filling!
Ingredients:
Baked, mashed sweet potatoes
Spinach or other chopped greens – I used frozen spinach, but you do you
Eggs and/or egg whites, beaten
Cherry tomatoes or any other random veggies or garnishes you'd like to add
Salt, pepper, and other seasonings (oregano, italian seasoning, paprika, hot sauce…)
Method:
Preheat the oven to 350.
Grease a baking dish – I used olive oil.
Press the mashed sweet potato into the greased dish to make a crust at least 1/2 inch thick.
Place the spinach into the crust.
Fill the crust with the beaten eggs.  Top with garnishes.  Season.  Bake until set, about 40 minutes.
Rolled Omelette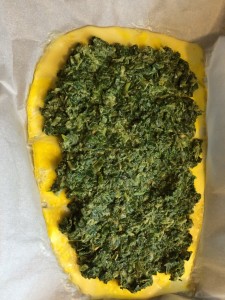 It's just as easy as I claim…and if your omelette breaks, it still tastes good.  Not judging if you eat this at dinner.
Ingredients:
2 eggs, beaten (for a personal-sized roll)
veggies for filling – I've used frozen spinach, chopped frozen peas, mashed sweet potatoes, corn, basically anything that was in the house.  Make sure you season it!  You can add a little sauce, too, but don't let the mixture get too wet.
parchment paper or a silicone mat (not an ingredient, but you

need

it)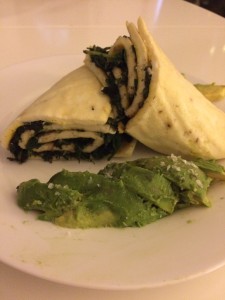 Method:
Preheat the oven to 350. Line a baking sheet or baking dish with parchment or a silicone mat.  I prefer to use a 1/4 sheet pan or a small baking dish to help the egg stay contained, but any size will work.
Pour the egg onto the prepared baking sheet.
Bake the egg sheet for about 10 minutes or until set.  Keep an eye on it – times vary wildly and it will NOT take as long as you think it will.
As soon as you take the baked egg out of the oven, roll up the egg + paper combo and leave it to sit for 5ish minutes.
Unroll the omelette and, without taking TOO much time, spread your filling on it and re-roll it.  The omelette might break or crack a little, especially the inner layers, but it will be fine!
Slice the roll in half, into pinwheels, or however you would like to serve it. Top with sauce or avocado or whatever floats your boat.
Blackberry Peach Cobbler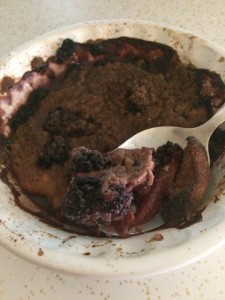 I kept this healthy by using a special grain in the topping and letting the fruit flavors shine through.  You could eat this for breakfast without stressing.  If you're dairy-free, use coconut oil or Earth Balance to make the topping.
Ingredients (makes 2 mini cobblers; double for a full-sized cobbler):
Topping:
1/3 cup teff flour (what?! You can get it at HEB!)
2 tablespoons of cold butter, cubed
1 tablespoon coconut sugar
1/8 teaspoon salt
Filling:
sliced peaches – about 4 small peaches
washed blackberries – about 1 12oz container
OR any other fruit!  don't worry about being too precise – just fill your baking dishes
Method:
Preheat the oven to 350! Who saw that coming?
Fill your baking dish(es) with the prepared fruit.
Mix the topping ingredients together with your fingers to form crumbs.
Top the fruit with the crumbs.  Bake about 50-60 minutes or until the crumb has crisped and the fruit is bubbly.
What quick and easy summer veggie recipes are you loving?