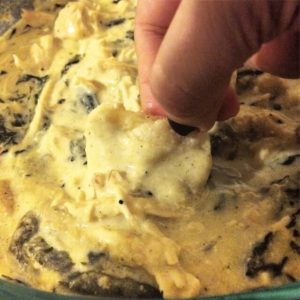 I didn't make this queso dip with the intent of blogging about it – I was reminiscing about the vat of creamy rajas con crema that I used to eat every Friday night in high school with my then-boyfriend (at a restaurant in Virginia that has since closed, sorry y'all), and this creamy deliciousness was born.
It's man-approved.  It's full of nutrients, with way less fat and sodium than a typical queso dip.  It's melty and cheesy and smoky (but not spicy – unless you want it to be, in which case throw some spicier peppers in there) and great on its own, on tortillas, or with veggies sticks and tortilla chips.  It is packed full of chicken, so use this as a substantial appetizer or even the star of dinner like I did.
The nutrition stats (hellooooo protein!) are for the queso dip only, not any dippers.  There are a couple more steps than a typical Tiny Fitness recipe, but they are worth it.
Let's go.
Queso Dip with Chicken and Roasted Poblanos
Ingredients (for 4 servings):
1.5 lb boneless skinless chicken breasts (give or take)
3 poblano peppers
3 cups baby kale or sliced lacinato kale
1/4 white or yellow onion, sliced thin
2 cups (1 tub) lowfat cottage cheese (do not use nonfat!)
4 tablespoons cream cheese, softened
4 oz jack cheese, grated (plus more – see note below)
olive oil
salt to taste
Method:
Poach the chicken breasts in water; when cooked and cool enough to handle, shred and set aside.
Meanwhile, roast the poblanos over an open flame OR under the broiler – mine took about 3 minutes on each side, but keep an eye on yours.  Once they're blackened on all sides, remove them from the heat (using tongs or a fork, superhero) and place them in a plastic bag for at least 10 minutes to sweat.  Then, rub off the blackened skin and discard, along with the stem, seeds, and ribs.  Slice peppers into 1/4″ ribbons and set aside. If you don't want to roast your peppers, just move on to step 3.
In a saute pan, heat a small splash of olive oil over medium-low heat; add the sliced onions and sprinkle with a touch of salt.  If you're not roasting your peppers, remove their seeds, ribs, and stems, slice peppers into 1/4″ strips and heat them along with the onions.  When onions are translucent (and optional peppers are soft), remove from heat and set aside.
Preheat the oven to 350.
In the same saute pan, wilt the kale, stirring occasionally (about 5 minutes over medium-low heat).  (PS – you won't taste this at all, but it adds some extra volume, color, and vitamins!)
Add the cottage cheese, cream cheese (broken into small pieces), and jack cheese to a large oven-proof container and mix thoroughly.  If you want a stringier, gooier queso dip, add another 2-3 oz of grated jack cheese, but make sure you adjust your nutrition stats accordingly. Stir in the kale, pepper strips, onions, and chicken.
Bake, covered, at 350 for about 30 minutes.  When you remove the dish from the oven, you will see a broken, watery mess.  YOU DID NOT F*** THIS UP, it's just what it looks like.  Stir for 1-2 minutes and allow to stand for 3-5 minutes before serving; the longer it stands, the thicker and creamier the dip becomes.  In fact, it's even better the next day!
Stats:

Enjoy!
Save