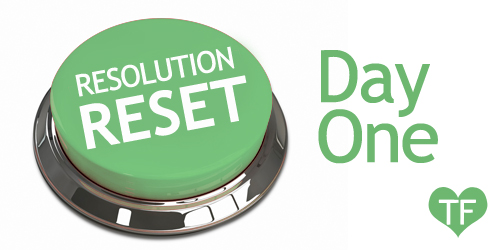 As I write this, we are just over halfway through 2017 – but no matter when you arrive here, it's a great day to start your Resolution Reset.
What is Resolution Reset?
A free set of proven strategies to help you stay "motivated"
Coaching to help you set goals you love that will love you back
An online community where you can get support if you get stuck
Who is it for?
Anyone who has a goal or a dusty, forgotten New Year's resolution but isn't making progress toward it
Anyone who doesn't have a goal but isn't living their very best life
Anyone who feels like they spend a lot of time looking for motivation and inspiration
Let's get started – Step 1
First things first, we have to get rid of our old goals and resolutions to make room for the goals we are about to discover.  But they're not trash – we should thank them on their way out for helping us get to where we are now!
No matter how many times you've tried to reach your old goals – and maybe you've even reached them, but ended back up where you started – never look at that interval as wasted time.  Whether you see it or not, you were learning something that you needed to learn in order to move on and try something new.
The road to success is never a straight line, so don't be too hard on yourself.
Find Your Goals – Step 2
It's only day one and we are already finding our goals! This exercise is also Day One of the 30 Days of Tiny Changes Journal – if you don't have your (free) copy yet, you're three clicks away from it, starting right here.
This goal identification process helps with any kind of goals, not just health and fitness ones, but I do recommend that you focus on just one area at a time, whether that is health and fitness, home, finances, work, goat farming….
Gather something to write with and something to write on (if not your Journal), and set your timer for 3 minutes.  No cheating!  Now, write down ALL of your goals (you don't have to be right, and you don't have to be "realistic", just write down everything you think of).
We're not done, but for the next step you will have to check your journal or come back tomorrow.  That's enough for today, anyway.
Spoiler: Spotting Your Goal
How will you know when you've found your real goal?
Don't settle for anything that doesn't make your heart race, keep you up at night, or bring a smile to your face when you think about the outcome.  I'm not being dramatic – your goals should really mean something to you.
We'll be working a lot on this part – on spotting fake goals (and why almost everyone has some), figuring out what you really want to accomplish and, best of all, getting there.
After all, I called this toolkit "Resolution Reset" because sooo many of us make the same resolutions year after year, fully intending to "lose 10 pounds", "be a better friend", "get in shape", and more, only to forget about them entirely long before Valentine's Day.  The good news is that once you connect with what you really want to achieve and clear out your old doubts and worries about the unknown that lies ahead (don't worry, I'm helping with that part, too), you won't forget about your goals again.
Stay Connected
Make sure to like Tiny Fitness on Facebook and turn on your notifications for our page, or subscribe to blog posts via email using the box on the right side of the (web version of this) page so that you don't miss any Resolution Reset steps and tips.  We've also got a Facebook group where you can post your questions and get help with your goals any time.
Save
Save