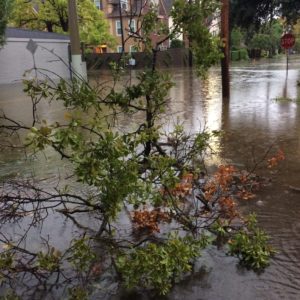 I don't want to minimize the damage that has been done so far by this storm or suggest that all roads must lead to health and fitness – but, on the other hand, many people are totally safe and just stuck inside for the next 24-72 hours while offices are closed and roads are flooded.
So, if you find yourself in that kind of situation and you're starting to feel a little stir crazy or you can't handle one more episode of anything on Netflix, here are some ideas for how you can stay active while stuck inside.  (And, incidentally, even if you can get out, if your area has been flooded recently you should be aware that flood water can bring all sorts of bacteria and creatures that you might not be expecting, so you might be better off inside anyway!)
1. Check out a video
I've posted several short no-equipment workouts that you could mix and match, and YouTube is full of all types of workouts for all levels…walking workouts, yoga, pilates, kickboxing, dance fitness, and pretty much anything else you could think of.  Workout videos can be cheesy, but they're better than another day on the couch.
2. Start a contest
Challenge friends or family to see who can get the most steps (use your phone's pedometer if you don't have a FitBit or another step-tracking gadget) without going outside!  Can you make it to 10,000 without wearing a hole in your rug?  Even if you're getting moving inside, you might want to wear shoes to keep your feet from getting sore.  (Bonus – I did a test today, and dancing gave me way more steps than just walking.)
3. Play a game
I've already posted three family games that can help everyone burn off some extra energy, and I wouldn't tell anyone if you adapted them for just grown-ups.
If you have a deck of cards handy, assign one move to each suit and leave the deck in a convenient spot.  Every time you pass by it, or every hour, choose some cards (3? 5?) and work out accordingly. For example, you might assign push-ups to diamonds, lunges to clubs, squats to spades, and jumping jacks to hearts.  If you draw the 7 of diamonds, you will do 7 push-ups.
If you have a dog, make sure to include him in your game – he needs to burn off some energy, too!
4. Set a timer
Vow to keep moving for 7 minutes, or 15, or whatever you can handle.  You can even use those minutes to walk around your house and tidy up as long as you keep your feet moving! (Yes, I have been doing butt kicks and high knees while washing dishes.)  If you have weights or bottled water, you might even get creative and make up your own workout, including upper body moves like bicep curls, shoulder presses, and tricep extensions.
5. And from the couch…
While you're stuck inside, it might be a good time to browse Pinterest and other online sources for healthy recipes that look tasty.  No reason not to come out of this storm armed with a shopping list and some new ideas!  You might even throw together a whole meal plan.
This is also a great time to reflect on your fitness goals and consider whether you're taking the right steps to reach them.  (And then you can go back to Netflix.)