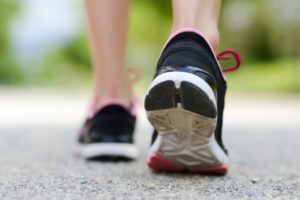 If you're having a hard time getting excited about lacing up your sneakers and taking a walk outside, here are three walks that you might enjoy! These walks work great with or without music, so don't worry if you can't find your headphones or your phone isn't charged. (If you're looking for Houston walking routes, there are some ideas at the end…but you can do these walks anywhere, even at work or on a treadmill, in Houston or not.)
Walk #1: The Chillout Walk
Can't focus? Take a chillout walk.  Your speed doesn't matter – this walk is all about focusing on your breath.
Try breathing in for four steps and breathing out over the next 6-8 steps.  Aim to take medium-to-long steps.  If you forget about breathing and find yourself wrapped back up in your thoughts, just rejoin your breathing pattern with your next step after you notice that your brain has drifted away.
There's lots of science that tells us how good it is to get moving when we're feeling stressed or anxious (here's an interesting mental health-focused writeup), but we tend to run towards our stress rather than away from it…unproductive though those actions are.  A 10-minute chillout walk is totally enough – and you don't need to trick yourself into saying 10 minutes and staying out for 30.  Walk for as long as you feel like it, keep the focus on your breath, and enjoy the relaxation when you get back to your home or office.
Walk #2: The Problem-Solving Walk
If you're stuck on an issue at work or at home, a 5- or 10-minute problem solving walk can do wonders to restart your productivity by helping you let go of the unproductive thought pattern and, just maybe, getting some new ideas.
For the problem-solving walk, pick one issue that you want to mull over, then head out.  Let your brain wander and consider the challenge from a few different perspectives.  The change of scenery and extra oxygen can help boost your brainpower, and the relaxation from the movement (even if you don't feel relaxed) can help tap into your best wisdom…kind of like what happens when you're in the shower and realize the untapped solution for world peace/keeping avocados fresh/that better mousetrap.
Just as with the chillout walk, feel free to extend your problem-solving walk longer than 5 or 10 minutes – but only if you want to.  Bring a way to record your ideas, whether you speak or type them into a note on your phone, jot them on a post-it, or write them on your hand with a sharpie.
Walk #3: The Gratitude Walk
This is how I walk my dog every morning, no lie! It's not hard when he is so excited to see the same neighborhood blocks…but the dog is not a mandatory part of your gratitude walk. This totally unstructured walk is all about noticing something exciting/beautiful/beneficial/otherwise good on each block of your walk.
On a gratitude walk, I might notice that my neighbor's flowering tree is in full bloom and take an extra second to appreciate how pretty the flowers are. I might appreciate the sharp new lines of their re-surfaced driveway. A fluffy baby squirrel might hang out just long enough for me to awww over its tiny tail. Majestic live oaks, their roots extending up to 90 feet from their trunks, never get old. The more challenging blocks might help me appreciate how hard a construction crew is working to apply stucco to the exterior of a new townhouse, or maybe the best I can muster is to be grateful for my comfortable sneakers, the sunshine, a fresh breeze, or the free time to take a walk in the first place.
You might be so cynical that you've already crossed this walk off your list, but I promise that a gratitude walk can transform your day. Try it, even begrudgingly, on your walk from your car to your office, or even on your way into the grocery store. You don't need to keep a journal of what you notice, and don't stress if you can't find something on every block.
Remember…if you always take everything for granted, you won't appreciate when you (and those around you) grow because you probably won't even notice!  Most of success is just showing up.
(If you want a real challenge, try making your next rush-hour commute a gratitude commute and notice something good about every car around you!)
Bonus: Houston Walking Routes
You can do these three walks wherever you are, but if you're looking for a change of scenery that's not too far from the Tiny Fitness studio, try: