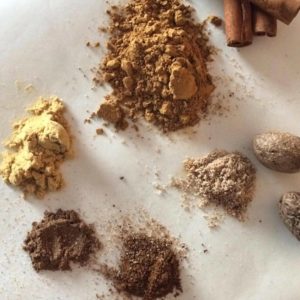 Pumpkin spice…are you tired of it yet?  For me, the answer is neverrrr! I don't mean the orange, sugar-laden, caffeinated kind –  I mean the real deal, sweet and spicy, fall-in-a-jar scent of pumpkin spice.
If you're not a fan, can I convert you by extolling the numerous health benefits of cinnamon, like its impact on your blood sugar and antibacterial and anti-inflammatory properties?  And how about the helping hand that ginger adds, which includes reducing post-workout soreness?
Science isn't enough to sell you? Whip up this DIY pumpkin spice blend and try out some of the five (5!) ways you might want to use it…and be sure to comment and tell us how you use it.  (Oh yeah, you can also use it in a pumpkin pie – this one is healthy enough for breakfast!)
DIY Pumpkin Spice Blend
Makes enough for 1 pumpkin spice lover; double it if you're a superfan!
Ingredients:
3 teaspoons ground cinnamon (ceylon cinnamon is best)
2 teaspoons ground ginger
1 teaspoon ground nutmeg
1/2 teaspoon ground allspice
1/2 teaspoon ground cloves
optional: 1/2 teaspoon (or more) ground turmeric
optional: 1/2 teaspoon ground cardamom
Method:
Combine all spices in a clean dry container with a lid; apply the lid and shake lightly to blend. Store covered at room temperature. Best if used within 3 months.
Six Uses for Pumpkin Spice
1. Add it to your coffee or tea.
Captain obvious reporting – you can just stir 1/2 teaspoon or so of this spice blend into your brewed coffee or tea, or add about 1 tablespoon to your cold brew while it's brewing and then strain it out.  (The spices will form a gooey island in your cold brew – it's fine.)  You could also sprinkle some pumpkin spice into hot chocolate!
2. Add it to your oatmeal.
So much fancier than plain cinnamon. Your oatmeal will never have been more fragrant.
3. Creamy pumpkin spice chia pudding.
Stir 1 teaspoon of pumpkin spice blend into 2 tablespoons of chia seeds, along with 3/4 cup water or nondairy milk of your choice. Let stand at least 15 minutes, stirring at intervals. Sweeten to taste as desired.
4. Make pumpkin spiced nuts.
Whip 1 egg white until foamy (just foamy, no peaks needed) and stir in 1 tablespoon of pumpkin spice blend, 1/2 teaspoon salt, and sugar to taste if desired. Toss in 3 to 4 cups of raw, unsalted nuts, and stir to coat. Spread on parchment or silicone-lined baking pans and bake at 300 for 30-45 minutes, stirring once.  (Baking time totally depends on the accuracy of your oven – these are sensitive, so take them out before they're black but after they're starting to feel dry.) Allow the nuts to cool completely on the baking sheets so that they don't end up a wet, sticky mess, and store in an airtight container.
5. Make a face or body scrub.
Mix 1 teaspoon of spice with 2 tablespoons of oil (argan, avocado, and olive are all good choices, depending on what your skin likes) and 2 tablespoons of salt or sugar – no fancy salts or sugars needed, and in fact fine crystals might be best for your skin.  Store in a covered container in a cool place, and use to get spicy fall scented-exfoliation anywhere you need it! (You should probably leave out the turmeric for this one – while it can be good for your skin, it also stains anything it touches.  Or, just buy a yellow towel.)