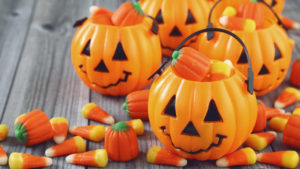 Halloween candy is so cutely tempting – all of those individually wrapped sugary gems, promising to be the only one…
…and then it turns into a mysterious pile of empty wrappers.
Don't let Halloween be your gateway into the Seasonal Seven slide! Here are some real-world strategies to enjoy your treats without getting tricked.
1. Choose What You Love
If Halloween candy is all around you (like if you've got tiny trick or treaters in your life, or if your office candy dishes overfloweth), only choose to eat the candy that you actually like.  Tootsie rolls taste the same as they always have; you're not missing anything if you don't try to guess the Dum-Dum's mystery flavor this year.  If Snickers is your jam, find a mini snickers and then get away from the stash.
2. Out of Sight…
It's a lot harder to eat more candy than you intend to when your candy is put away, rather than in a big bowl on prominent display.  Keep the goods hidden until it's time for the trick or treaters to arrive so that you don't absentmindedly pick at the candy bowl each time you pass it.
3. Be Generous
Once Halloween has passed, donate your extra candy to the troops! This link will tell you where you can drop off your sweets – and you might even get a bonus toothbrush or other gift out of the deal. The closest drop-off location to Tiny Fitness is Smiles of Midtown, located 2.3 miles from our studio at 3600 San Jacinto, Houston, TX, 77004, phone: (713) 523-6848.
4. Don't Trick Yourself
Lots of websites will tell you that 400 jumping jacks can burn off your 3 fun size M&M packs, but all the burpees in the world won't change what the sugar does to your body! Refine sugar contributes to inflammation (headaches, cellulite, achy joints, and fatigue, just for a few fun examples), and you can't exercise that away.  Instead of trying to atone for a mountain of damage, just keep your candy consumption within reason (not more than 20% of your calories on Halloween, or about 300 calories if you eat 1600 calories a day, and not more than 100 calories a day on an average day) and be glad that it won't leave you with any lasting effects.
What does 100 calories of Halloween candy look like?
1 1/4 of most fun size bars or
1 Reese's butter cup or
13 candy corns or
1 fun size packet of most M&M's flavors
(Here is a cool visual guide to what Halloween candy serving sizes look like – but don't get tricked by their link to how many jumping jacks you need to do to burn it off!  Food doesn't work like that.)
5. Eat the Candy…
…and just eat the candy.  Don't be buried in your phone, driving, or watching TV – actually pause to enjoy the candy.  After all, holidays are celebrations!
---
There's nothing wrong with enjoying treats from time to time, or with enjoying portion-controlled treats on a regular basis! These strategies should help you get through Halloween without a stomachache or another cavity – and still fit into your jeans on November 1.