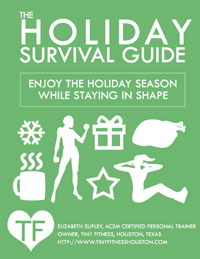 I can't wait for you to get your hands on this year's Holiday Survival Guide.
See, I was going to make a lot of changes to the old version.  I was sure we needed new tips, new tricks, and new strategies to make it to 2018 and enjoy the upcoming holiday feasts without sacrificing our fitness progress.
But…
…to my delight and surprise…
…when I went back to the old guide, I was in love. It has everything you could possibly need to stay committed to your progress this holiday season AND enjoy your favorite treats.
So I did a little cleanup, and I made one other tiny change:
This year, the Holiday Survival Guide is free.
Almost 40 pages of workouts, recipes, gift ideas, and real talk about managing holiday stress and choosing the treats you love… and it's waiting for you two clicks away.
If you need more details and a little preview (although what do you have to lose? It's free!), you can get extra info on the guide here.
If you're ready (or even SUPER EXCITED like I am) to get the guide, just enter your email address below to show us that you're a person and not a content-harvesting robot, and the guide will be in your inbox instantly.

Stay connected with us on Facebook for more Holiday Survival updates and some bonus workouts that you can do anywhere! And if you like free, don't forget to scope out our 30 Days of Tiny Changes Journal.