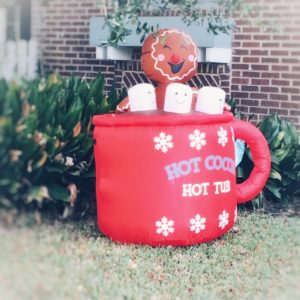 Whether you're hosting a holiday party or bringing a treat to a get-together with friends or family, setting up a hot chocolate bar is both fun and secretly healthy…and you barely have to prep anything.
I recommend offering at least five possible combinations at your hot chocolate bar – that might sound like a lot, but we're all about flexible options here! After all, this is a great treat to accommodate the vegans, the gluten-free, and all of the various types of picky (Whole 30, Atkins/LCHF, and whatever other plan you might be attempting to follow).  Try picking at least 2 milk options, at least 2 chocolate options, and at least 2 topping/mix-in options, and you're already at 8 possible drink combos!
Hot Chocolate Bar Shopping List: Milk and "Milk" Ideas
Try to pick at least 2 from this list to accommodate everyone's probable tastes.  Buy in quantities that allow at least 16oz (2 servings) per person across all of the different milk options.  No prep needed – you can serve these right out of their cartons/jugs, or bring carafes and ID tags to decant if you're fancy.
(organic) whole or 2% milk
unsweetened hemp milk (good for vegans and those with nut allergies)
almond nog (Trader Joe's has a great one that's pretty low in sugar)
unsweetened coconut chia milk – it's super creamy
lactose-free milk (if you know that's an issue for anyone at the party)
Hot Chocolate Bar Shopping and Prep List: Chocolate/Cocoa
I recommend bringing at least the sugar-free cocoa and the shaved semi-sweet chocolate.  Both travel well in jars or cylindrical disposable storage containers like these (that way you don't have any dishes to bring home) – tie on a ribbon and a tag with a quick description and you can serve right out of their containers.  Each mix needs about 2 tablespoons per serving, so you might also want to bring some big spoons and a little note with mixing directions.
Sugar-free cocoa: mix 3 parts good-quality cocoa to one part powdered stevia (for example, 3/4 cup cocoa powder and 1/4 cup stevia)
Shaved chocolate: choose a good quality bar of milk, semi-sweet, and/or dark chocolate, and shave it using a microplane or a box grater.  If you tend to have warm hands, you should probably wear a glove on your chocolate-holding hand – and if your house is warm (heyyy Houston in December!) you might want to chill your grater first.
Super-decadent mix: 1 part cocoa, 1 part shaved chocolate, the seeds from 1/4 vanilla bean for every cup of mix you're making (that's measuring cup cup, not drinking mug!), 1 part sugar (try date or coconut sugar), and a pinch of fine salt
Store-bought hot chocolate mix: if you just don't have time to stir or grate, there are plenty of flavors out there but they usually have a lot of added sugar (World Market has a variety of flavors!)
Caffeine-free chai tea bags: no, it's not chocolate, but it's a nice option for people who don't want chocolate (if you allow that kind of negativity in your life) and requires zero effort
Hot Chocolate Bar Shopping and Prep List: Mix-Ins
You could pre-flavor your cocoa or shaved chocolate with any of these mix-ins, or you could bring them on the side…or you could omit them altogether.
Peppermint: bring mini candy canes to stir in OR crush some canes and bring them as a topping/mix-in
Gingerbread: stir together 4 parts ground ginger, 3 parts ground cinnamon, and 1 part each ground nutmeg and ground cloves
Cinnamon: bring cinnamon sticks or a cinnamon shaker
Spice: stir together 4 parts cinnamon, 2 parts ground ancho chilies, and 1 part (or less) ground cayenne
Alcohol: you do you! Bailey's, Frangelico, and rum would all mix well with any recipe, if you're attending that kind of party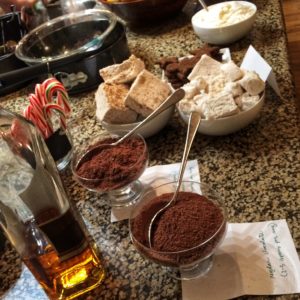 Hot Chocolate Bar Shopping and Prep List: Toppings
I'd expect a lot of side-eye if you don't at least bring some whipped cream.
Whipped cream: make it yourself (it's a great arm workout if you do it by hand) so that you can add in a little vanilla extract and stevia/sugar, or buy it in a can to squeeze and go
Marshmallows: these are honestly

super

easy to make yourself – and you could make different flavors/colors/shapes for extra street cred by mixing any of the spice blends above into the coating – but they're even easier to buy pre-made.  If you have folks in your crowd who won't be down with gelatin, I think that Sweet + Sara makes the best vegan marshmallows.
Cookies: Use any dough (slice and bake works) and cookie cutter to make cookies that will sit on the edge of cups or mugs – just take a small, sharp knife and cut a 1/2″ slit in the cookie before you bake it (the open space will shrink a little in the oven as the cookie expands). You could also pick up store-bought tuile cookies (the tube kind) if you're not doing any DIY's today.
Hot Chocolate Bar: The Other Stuff
Here's where you may need to coordinate a little bit with your host, but it's also where you can really sell it if you cruised through the grocery store for 100% of the ingredients!

Cups/mugs
Totally optional: little sweaters for the cups/mugs (but hey, could count as a gift! make them out of socks or out of knit headbands from Target or the Dollar Store)
Some way(s) of heating the milk – microwave, saucepans (one per milk type), crock pot….
Spoons/stirrers (even if you're not bringing mix-ins)
Napkins (just assuming here)
Serving spoons/tongs for each item you're bringing to the bar
Tinsel/signage/holly/a big tray/anything else you want to dress up your bar