How can you stay ready for Hurricane season without ordering an industrial pallet of peanut butter crackers? In addition to emergency supplies like these (baby wipes, tarps and tape, a full tank of gas, tools, flashlights, cash…), here's a list of what I keep in my pantry to eat well in the event of an emergency.
Pro tip: I recommend stocking your pantry as soon as you think of it, rather than waiting in line for water with everyone else in the city! (I usually fix mine up on April 1, well in advance of the official start of the season.)
Stocking your Healthy Emergency Pantry
1. Food that you will actually enjoy that can be made into basic meals and snacks.
(Scroll down to the bottom for my full shopping list!)
Canned goods aren't the healthiest or cheapest option, but they are durable. Before you stock up on cans or anything else from any emergency list (including mine), consider how you can approximate your day to day eating without a refrigerator. By buying a few backups of staple products that you already love, your emergency stash will basically stock itself.
For example, I eat a lot of fresh fruits and vegetables! And while things like apples and citrus will last just fine at room temperature, berries and greens have a much more limited shelf life. Likewise, tofu, meats, and eggs won't last very well without refrigeration.
Instead of getting dried fruit, I opt for freeze dried fruit – it contains fewer additives (no sulfate/sulfite preservatives), it takes up less space, and it is unlikely to bother your stomach if you go overboard (no one needs that when the plumbing isn't working at its best). While there are veggie "crisps", I find them to be more of a chip replacement than a veggie replacement, so I look for veggies in boxed and canned soups. And shelf-stable proteins aren't a regular part of my life, but shredded chicken, tuna, and even tofu are available in pouches and other aseptic packaging…and jerky is, too, but you'll have to look elsewhere for tips on that because I've never been a fan.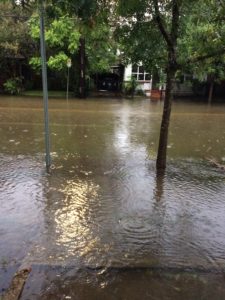 But really, you should get food that you already eat. Your emergency food has a shelf life just like everything else you buy, so you should buy things that already fit your life. That way, when you need to start using them up at the end of the season, they will flow right into your regular meal prep.
A lot of shelf stable foods are simple, empty carbs, so I've tried to emphasize a variety of foods that will still provide you with a balance of complex carbs, protein, and fats, even if the power has been out for a few days.
Also – you probably don't need more than half a shelf in your pantry to store your emergency food. Do what makes you comfortable, but I'm planning for a few days of inconvenience/flooding/power outage, not a full-on doomsday scenario.
Some of my favorite pantry combos for the start of the day:
Low sugar breakfast cereal (and maybe something a little more fun…we are talking about an emergency situation here) + freeze dried berries + shelf-stable milk/soymilk/coconut milk
Cold brew concentrate or instant espresso + that same shelf stable milk
Some lunch and dinner ideas:
Canned vegetable soup (I like Amy's – their cans are free of the common toxic chemicals, and the tops are pop tops so you don't have to use a can opener) + whole grain crackers
Boxed vegetable soup (I like to get one with broccoli or other green veggies as the main ingredient since those can be hard to come by in an emergency situation)
Refried beans (no utensil required, and many brands now have pop top cans) + whole grain crackers or tortilla chips + salsa + shelf stable cheese (I get cheese crisps from Trader Joe's but there are lots of cheese, like Laughing Cow, that don't require refrigeration) + your leftover avocados
Pouches of tuna or shredded chicken + packets of mayonnaise and/or mustard + relish + crackers
PB&J (look for an all fruit spread) on crackers or leftover bread
Some snack ideas:
freeze dried apples + nut butter (and maybe + chocolate chips or + honey)
nuts
protein bars or granola bars
protein shakes (if you already drink them, although you'll be left with a shaker bottle to rinse)
2. Water – for drinking and for flushing toilets, washing up, brushing teeth, etc.
I buy drinking water that tastes good, in 1 liter or smaller bottles that can be stored easily. I replace (and use up) this water every year. I buy larger, inexpensive, easy to open bottles of water for purposes other than drinking, and I even store some under the bathroom sink. (I don't have a bathtub I can fill with emergency water, but that's also a good option.) The non-drinking water can stay around for several years, as long as the bottles haven't started leaking.
3. A bag of ice.
I keep a bag of ice in my freezer during hurricane season (bought well before gas stations are charging $8 per bag) to either keep my cold foods cold longer if the power goes out OR fill a cooler. As a bonus, most freezers are more efficient when they're full, and the ice definitely takes up some space. You could also make your own large blocks of ice in old tupperware.
Ready to stock your healthy emergency pantry?
Here's a printable version of my full grocery and emergency supply list – feel free to change it as you need to, and to change the quantities to work for your situation. I strongly recommend that everyone keep at least 3 days' worth of emergency supplies on hand all year so that you don't have to wait in long lines and pay premiums for bottled water and shelf-stable foods that can stay good year round.
Click here to save your copy of my list!