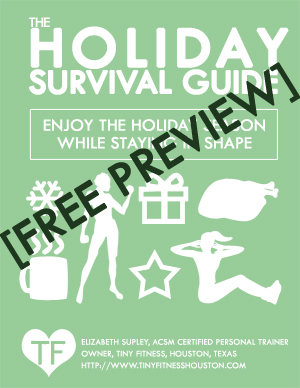 The 2017 Holiday Survival guide is here!
If you're in a hurry, get started now with the first three tips to avoid the Seasonal Seven.  They will only take you 5 minutes and you can do them wherever you are at this very moment.
Get ready for almost 40 pages of healthy holiday tips, including:
Emergency Quick Fix Guide, including a fast workout and meal plans
20+ easy and healthy recipes, plus how-to's for healthy homemade gifts
5 do-anywhere, equipment-free workouts
Motivation tricks to beat common holiday pitfalls
Eating strategies to make it through the season without sacrificing your waistline
A holiday challenge to keep you on track throughout the season
Whenever you're ready, get the guide in two clicks – we just need your email address to know that you're a real human and not a content-harvesting robot, but the guide will be sent to you instantly!
Save