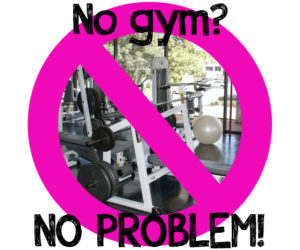 Can't make it to the Tiny Fitness studio to work out with us?  Don't worry – these home workouts will help you get the results you want!  Learn some quick and easy fitness moves to make your own routines, or follow our calendar to get started today.
Workout Wednesday Videos
You don't have to wait until Wednesday, but our quick, no-equipment workouts will help you boost your health and fitness right now!  You can even sneak in most of these at the office.  New workouts are added each week – follow our page on Facebook to be the first to know about this week's moves.

Getting Started with Cardio
Not sure how much cardio exercise you should be doing…or if you should be running, walking, or jumping your way to cardio fitness?  Get our cardio tips here.
Getting Started with Strength Training
Do you even need to be doing strength training (YES)? What should you do, and what can you even do without weights? Get our strength training tips now!
Be Your Own Personal Trainer
Want to put together your own fitness routine? Let us help you get started with our tips on putting together your own effective fitness routine.
Remember, ALWAYS check with your health or fitness professional before beginning or modifying your fitness routine, and always listen to your body!
Save
Save
Save
Save