I have I gotten many fitness–related gifts over the years since being active has been one of my priorities for over two decades. Here are my unbiased top gift picks for the 2014 holiday season. All of these are gifts I have received (perhaps from myself) and loved, each for under $30. I hope the fitness fanatic in your life will love them too!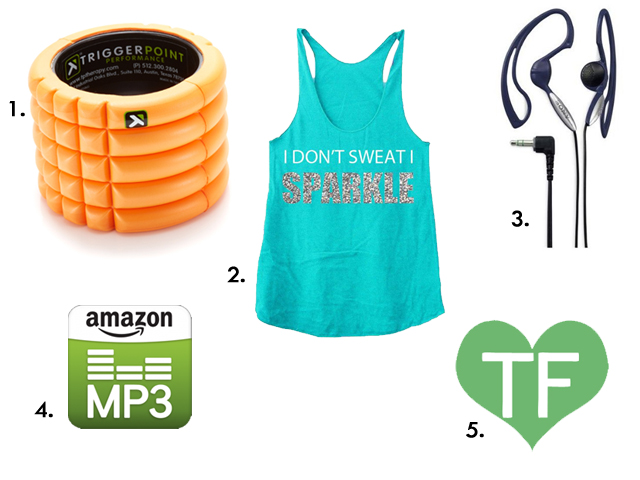 1. A Mini Foam Roller
(or a Foam Roller
in general)
I adore my mini foam roller!  It comes with me every time I travel, even if I don't plan on working out – it's great for soothing sore muscles and loosening up after a long day of walking.  I'm partial to this brand because of its durability, but foam rollers are available at many sporting goods and big box stores.  If you've never foam rolled (technically speaking, self-myofascially released), you're in for a home massage treat!
2. Cute workout clothes
I keep a Pinterest board of cute workout outfit ideas, but cute workout clothes are not in short supply.  Athleta and Lucy have unique styles, but Target and departments stores have great selections, too.  Workout socks and jackets are always appreciated, in my experience…but in my world, you can never have too many hoodies.  (If you're feeling inspired, you can even break out the rhinestones and decorate a shirt for a special someone!)
3. Good headphones

If you have a runner or a gym bunny in your life, nice earbuds are a great gift or stocking stuffer. I love the kind that hook over my ears for running, and if they come with adjustable cushions, even better!
4. Amazon mp3 gift gard
or Spotify membership
Who doesn't need new workout music?! No explanation really needed for this one…treat someone to new tunes for the holidays.
5. Workout/Studio gift card
Show your support for your buddy's fitness dreams by treating them to a new class or a month of membership – maybe they've always wanted to try aerial yoga, visit a trampoline gym, play ice hockey, or climb a rock wall!  If you know someone who would like to come for some personal training or Zumba fitness with me, you can even get them a Tiny Fitness gift card.
*this post contains affiliate links to Amazon