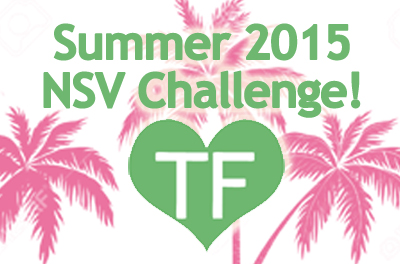 Houston, are you ready for the ultimate summer challenge? This summer is all about NSVs, or non-scale victories.
To participate in the Summer 2015 NSV challenge:
1. SIGN UP HERE
…so that I know you're participating! If you don't sign up, you won't be an official participant…so you won't be eligible for prizes or get the NSV Challenge emails (just one email per challenge period, plus extras if bonus point opportunities become available 😉 )
2. EARN POINTS
during each challenge period by completing one of these four activities per period to celebrate your NSV*. You may participate in as few or as many challenge periods as you'd like.
EARN 1 POINT VIA EMAIL: Reply to the end-of-challenge period email with a brief description of your NSV for the challenge period
OR
EARN 2-3 POINTS VIA EMAIL: Reply to the end-of-challenge period email with 2-3 paragraphs (150-250 words) about your NSV for the challenge period – include a photo that illustrates your NSV if you'd like (1 additional point)
OR
EARN 1-2 POINTS ON FACEBOOK: Post a descriptive comment that represents your NSV (add a photo for 1 additional point) to the Challenge Roll Call post for the challenge period on the Tiny Fitness Facebook page
OR
EARN 2 POINTS ON INSTAGRAM: Post a photo that represents your NSV to Instagram and "like" the Challenge Roll Call post on the Tiny Fitness Instagram for the challenge period
The challenge periods are:
May 24 – June 6
June 7 – June 20
June 21 – July 4
July 5 – July 18
July 19 – August 1
August 2 – August 8
This means you can earn up to 18 points throughout the course of the challenge…plus more with those potential 😉 😉 😉 bonus points. Sign up today to be in on every possible bonus point opportunity!
3. REDEEM YOUR POINTS
for one more more of these prizes! Cash out as you go, or save up your points for bigger prizes.
3 POINTS: 1 free Zumba Fitness class at Tiny Fitness (or affiliated locations)
9 POINTS: 1 free personal training session at Tiny Fitness
14 POINTS: 5 free Zumba Fitness classes at Tiny Fitness (or affiliated locations)
18: POINTS: your choice of the GRID mini foam roller or a special prize from the August Zumba Instructors Convention
Redemption information will be provided to registered challenge participants.
*You may only use each NSV up to twice during the entire duration of the challenge – for example, you can post about losing inches in challenge period 1 and challenge period 2, but for the remaining challenge periods you must find a new NSV to celebrate in order to earn your points. NSVs must have been achieved between January 1, 2015 and the submission date.
Fine print:
Please consult your health practitioner before beginning or modifying your fitness program.
The Summer 2015 NSV Challenge is open only to residents of the United States aged 18 and older. Prizes must be claimed at the Tiny Fitness studio, located at 1905 Dunlavy St., Houston, Texas, 77006 and will not be mailed. Tiny Fitness ("Sponsor") reserves the right to modify Challenge rules and procedures, and to request additional verification of Submissions before points are awarded.

By participating in this Challenge, you attest that you are healthy enough to perform physical activity and that you undertake all exercises at your sole risk. You voluntarily assume any and all risk of loss, damage, or injury of any kind while participating in the Challenge and with full knowledge of the consequences (i.e. that you are waiving your right to sue) expressly waive any and all liability on the part of Tiny Fitness and its respective staff and officers.

All Challenge entry materials become the property of Sponsor and will not be acknowledged or returned. The copyright in any Submission shall remain the property of the entrant, but entry into this Promotion constitutes entrant's irrevocable and perpetual permission and consent, without further compensation or attribution, to use, reproduce, print, publish, transmit, distribute, sell, perform, adapt, enhance, or display such Submission for any purpose, including but not limited to editorial, advertising, trade, commercial, and publicity purposes by the Sponsor and/or others authorized by the Sponsor, in any and all media now in existence or hereinafter created, throughout the world, for the duration or the copyright in the Submission. Sponsor shall have the right to edit, adapt, and modify the Submission.

Sponsor may revise or update these Challenge rules at its sole discretion at any time. You agree that should you object to these Challenge Rules or any subsequent modification, you cannot enter any challenges offered by Sponsor.