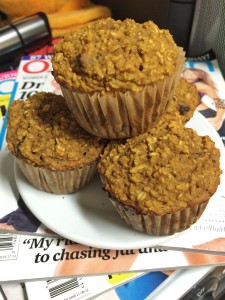 I love my breakfast oat bars, but I'm only human and every now and then something new sparks my fancy. A recipe for banana espresso chocolate muffins caught my eye 2 weeks ago, but even though it was "paleo" it was still nutritionally crap – lots of fat from added oils, lots of sugar from maple syrup and banana overload – and the photos with that blog post still showed sad little hockey puck muffins. If I want hockey pucks, I can at least make them healthy! And if I want tasty muffins that are healthy and energizing enough to eat for breakfast, I will have these.
And if you're at the studio this week and you ask nicely, I might even share.
HEY! You can copy the link to this post (http://tinyfitnesshouston.com/2015/09/27/pumpkin-chocolate-chip-espresso-muffins-this-is-not-a-drill/) into MyFitnessPal and it will copy in this exact recipe for you.  Boom.
Pumpkin Chocolate Chip Espresso Muffins
Makes 12; serving size for calorie calculation is 3 muffins (yes, that says 3!)
Ingredients
1 cup canned pumpkin (about 2/3 of a can) or homemade pumpkin puree
3 packets of stevia
1 teaspoon vanilla extract
2 eggs
1/4 cup unsweetened applesauce (use more pumpkin if you want!)
3 cups of ground oats (oat flour)
2 teaspoons instant espresso
½ teaspoon baking soda
2 teaspoons baking powder
1 teaspoon cinnamon (optional)
1 teaspoon ground ginger (optional)
1/4 teaspoon salt
2 heaping tablespoons chocolate chips
Method
Preheat oven to 350 degrees. Line a muffin tin with papers or silicone liners.
In a large bowl, mix together the pumpkin, stevia, vanilla extract, eggs, and applesauce.
Add the oat flour, instant espresso, baking soda, baking powder, cinnamon, ginger, and salt and stir until just combined. Fold in chocolate chips.  (We add the chips at the end so they don't get mushed up while we're doing the serious stirring.)
Spoon mixture into prepared muffin cups and bake for 25 minutes.
Let cool in pan for 10 minutes, then remove to a wire rack and finish cooling before storing.
Nutrition stats per serving: 370 calories, comprised of 9g fat, 58g carbs (8g of sugar), and 14g protein.  (Each muffin clocks in at 123 calories.)  If you're trying to cut down on sugar, make sure to use dark chocolate chips.  You can also skip the chocolate entirely or use just one tablespoon of chips, for a savings of 40 calories/3g of sugar per serving (skipping) or 20 calories/1.5g sugar (just 1 T), respectively.
Caffeine info: There's about 8mg per muffin, or 24mg (about 4 oz of coffee's worth) in 3 muffins.