Note from Elizabeth: Brie has been incorporating so many healthy changes into her life, and her progress continues to add up.  She is so much more active now!  I was able to challenge her to some TRX lunges and variations this week, which was kind of a big deal because I had put them on her "no" list due to her history of joint pain and some other past issues that had affected one side of her body.  Now that Brie's muscles are stronger, she was able to tackle 3 items from her "no" list without pain – in the photo below, she is literally breaking the boundary of what even I thought might be possible for her workouts, and this was only her 9th hour with me.  Can you imagine where we will be by workout #12?!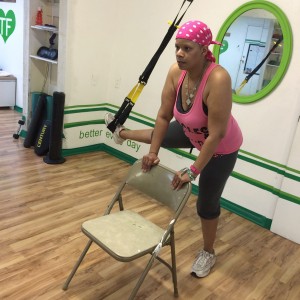 Hey guys! I wanted to take a minute and thank you for following me on this journey to healthier, happier me. I am still having some issues with my bladder and dealing with infection, but I have continued to walk every morning (weather permitting) and it almost always jump starts my day. It's getting chilly out, but I have purchased some work out clothes to brave this Houston "cold".
Every morning I devote enough time to walk a mile or a mile and half. From Wednesday the 11th to Friday the 20th I walked over 300 minutes (319 to be exact).
This week's training session with Elizabeth was very interesting. Elizabeth changed up my routine and we did some things that at one time I could not do. Now that I am stronger, I can actually do these exercises! I was really excited that Elizabeth was extra encouraging and motivating this week. She recognized improvements in my work outs and that I am gaining muscle mass. I did a lot of work on the TRX (my favorite) and, as I said, it was challenging.
Another cool thing that happened this week was the number of times I climbed the stairs in one day. I have a FitBit Charge HR and it counts the number of flights you ascend.  I live upstairs, and I use to hate climbing the stairs because it was so taxing on my body. All the extra weight I carried, and the lack of exercise I did, made for a grueling flight up the stairs. I am happy to report that in one day, I went up the stairs 12 times! That is amazing. Such progress. I remember times when I would go grocery shopping and I would actually leave stuff in my car until I decided to go back downstairs, instead making the second or third trip.
I am moving in the right direction and I am grateful for Elizabeth and all of you that are in my corner.