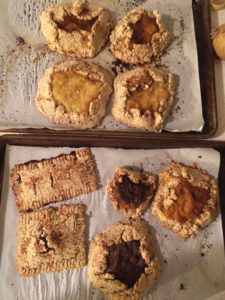 I took a classic homemade pop-tart recipe, made the crust high in protein but still tender and delicious, and made sure that you could freeze and re-heat it since the prep takes a few more minutes than my standard oatmeal cookie kind of breakfast.  I also filled it with delights ranging from pumpkin pie filling to an unbelievable chocolate tahini blend and even plain old (low-sugar) jam.
Then I had to hold off on posting the recipe because I was cooking with pumpkin and it was still August.  Don't judge.
Ready to bake?
Healthy Homemade Pop-Tarts (for 4 servings at about 450 calories per serving – full stats below):
Crust Ingredients:
3 cups rolled oats, ground into flour using your blender or food processor
1 cup cottage cheese
3 tablespoons butter, softened (but not melted) OR cold and cut into small pieces
3 teaspoons sugar (I used coconut sugar)
Filling Ingredients (go wild!):
For apple: 4 small apples, a pinch of salt, a squeeze of lemon juice, and (optional) vanilla and/or cinnamon
For pumpkin: 1 can pumpkin puree, 1 teaspoon each ginger, cinnamon, and honey
For chocolate tahini: 6 tablespoons tahini, 2 tablespoons cocoa powder
For jam: 4-6 tablespoons all-fruit jam
Method:
Preheat the oven to 350.  Line a baking sheet (or 2) with parchment or a silicone mat, and line your workspace with parchment as well to make dough rolling easier in step 4.
Prepare your filling – if using apples or another fresh fruit, dice finely and cook in a saucepan over medium heat until softened.  You may need to add 1-2 tablespoons of water along the way.  Season after removing from heat.  For uncooked fillings, stir together filling ingredients and set aside.  (For jam, open the jar, y'all.)
Place the oat flour into a large bowl, then use your fingers to mix in the butter and cottage cheese.  The dough will be stiff at first, but it will form a pie crust texture after 1-2 minutes of being worked.  If you are positive that your dough is too crumbly, you can add cold water 1 teaspoon at a time to loosen it.
Divide the dough into 4 equal balls. Cover a ball of dough with parchment on the top and bottom and roll out to 1/4″ thickness – round-ish shapes for open-faced tarts, rectangles for covered tarts.  Set aside and repeat with remaining dough balls.
For open-faced tarts, top each dough round with 1/4 of your filling and fold the edges up and over the filling.  If an edge breaks, just press it back together.
For covered tarts, you will need to cut each rectangle in half.  You can trim the edges if necessary, but if you trim off a lot of dough just remember that you will need to modify the nutrition stats!  Top half of your rectangles with about 1 tablespoon of filling (less than you think you need), then cover with the matching rectangle.  Seal the edges with a fork, and be sure to poke some holes in the top to vent steam as well.
Sprinkle the top crust with sugar, pressing down lightly if your dough is dry to make sure that the sugar sticks.
Bake for 22-25 minutes or until the edges of the crust have begun to brown.  Cool completely before storing, covered, in the refrigerator.  Pop tarts can also be frozen after cooling!
Nutrition Details:
As listed here and when made with lowfat cottage cheese, this crust (which can be used for lots of other recipes!) has about 350 calories per serving, with 13g fat, 45g carbs, and 16g protein per serving.  Your nutrition stats will vary from there based on the filling/topping that you choose.