It's Halloween!  Don't get spooked if you failed to fix up some healthy treats – here are a few quick and tasty options that will make your day frighteningly festive.
1. The Laziest: Chocolate Chip Jack O'Lantern Face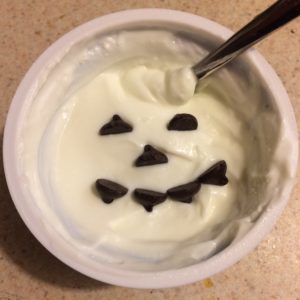 So lazy that I demonstrated it on plain yogurt!  Get a little more daring and stir in some canned pumpkin, cinnamon, and maybe a teaspoon of honey to make things more exciting.
2. Still Lazy: Apple O'Lantern (Or Pepper)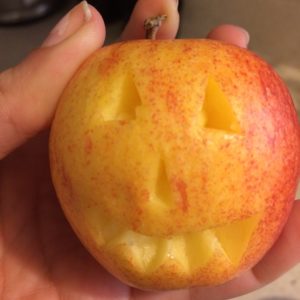 Use the tip of a paring knife to carve a face into an apple. Bonus points for then coring it and filling it with nut butter, tahini, cooked oatmeal, yogurt, chia pudding, or maybe even ice cream (Halo Top, anyone?)
If you're going savory, carve the face into a bell pepper instead.  Serve with dip, or fill it with quinoa, ground turkey, or your choice of deliciousness.
3. Definitely Lazy: Fingers
The blog I borrowed the photo from is sadly now offline, but these are half sticks of string cheese and pieces of slivered almonds.  You're almost done making them and you haven't gotten up from the couch.
Other striking finger combos:
Fingers: celery, carrots (baby carrots work great for this), asparagus, pickles
Fingernails: olives, sliced roasted peppers, almonds (marcona almonds have a great look)
4. Luxurious but Simple: Pumpkin Pancakes with Caramel Apples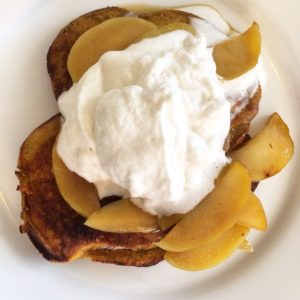 Ingredients:
1.5 cups pumpkin puree (or be crazy and use the whole can)
2 eggs
1 teaspoon vanilla
1 cup "flour" (I used 1/2 cup egg white protein, 1/4 cup teff flour, and 1/4 cup quinoa flour…you do you)
1/4 teaspoon salt
2 tablespoons sugar of your choice OR two packets stevia
1 teaspoon baking powder
1-2 teaspoons spices to taste (I mixed turmeric, cinnamon, freshly grated nutmeg, and ginger)
2 medium apples, sliced
1 tablespoon butter
splash of water or apple cider
2 tablespoons brown sugar
1/2 cup cream
For the pancakes (makes 8, using 1/2 cup scoop to portion batter):
Stir together 1.5 cups of pumpkin puree, 2 eggs, and 1 teaspoon of vanilla in a medium bowl. In a separate bowl, whisk together dry ingredients.  Add the dry ingredients to the wet ingredients, then cook on a heated griddle for about 3 minutes on the first side and 2 minutes on the second side.
Meanwhile, heat the apples and the splash of water or cider in a covered saucepan on medium heat until softened but not breaking down (about 8-10 minutes).  Add the butter and brown sugar, shake (while covered!) or stir gently to combine, and return to the heat briefly to allow the sugar to melt.
Finally, whip the cream.  Top the pancakes with hot apples and cream as desired.
5. Oh, We Fancy Now.
Check these out for inspiration – whether you're a fruit artist or a veggie ingenue, these mosaic-like works of snack art won't take you more than a few minutes to assemble as long as you've shopped well.  Use your talents to top yogurt, hummus, or even a (frozen?) pizza!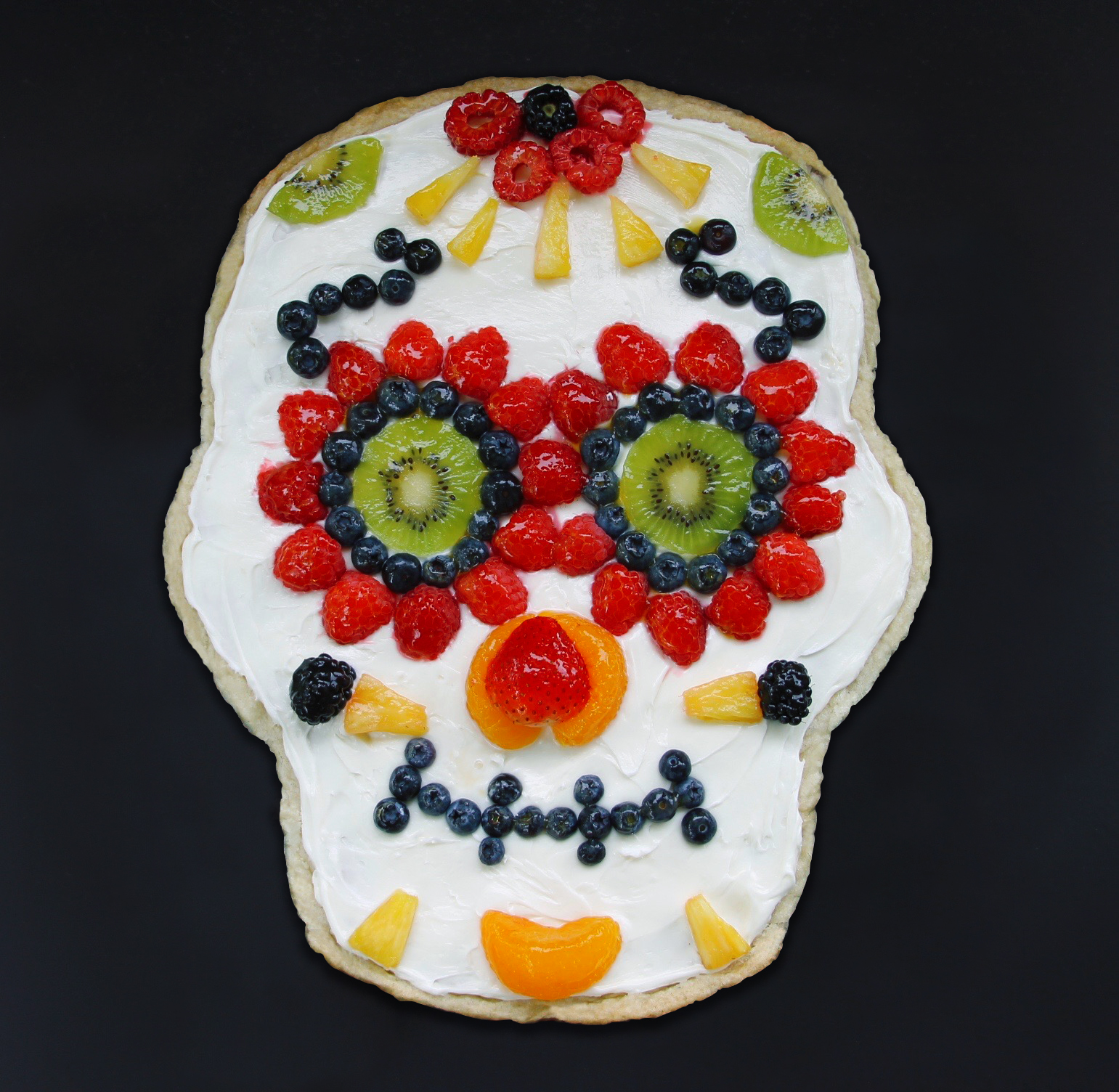 Happy snacking!