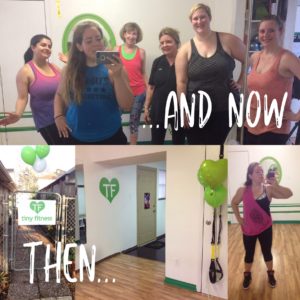 Three years ago today, Tiny Fitness held its first Zumba class…and more than 700 Zumba classes later, things are a little different around here! I'm taking a break today from talking about working out and planning meals to share a little bit from behind the scenes of what this studio journey has been like so far.
Most of all, it has been rewarding.
I'll cut to the chase: I wanted a fitness studio where anyone and everyone could feel comfortable starting where they are and pursuing their goals one tiny step at a time. I wanted to help more people start living their best lives every day – with all of the energy, ease, and enthusiasm they need. I wanted a place to promote the truth about fitness: that it's not just about how strong you are, how fast you are, or what size pants you wear, but that it touches every part of your life. And that each and everyone of you who will ever read this deserves great care.
So yeah, that part has been awesome. I've gotten to work out with a couple thousand Houstonians and visitors so far, and I'm excited to bring more and more online so that I can meet even more of you amazing people.  Everyone who has trained with me has lost inches and gained so much strength (and so many more intangible things).
It has been scary and awkward.
Self-promotion is weird and uncomfortable.
Relying 100% on yourself and only yourself is super scary at times!
Trusting the process has its good days and its bad days…or good months and bad months.
I've gone to teach Zumba classes at events that provided no sound system.  I've re-invented what's now our Bombshell Bootcamp class twice.  I've had feelings about things that didn't matter and spent so much time debating about really great opportunities that I've missed out on a few.
I'm not perfect, and I don't expect myself to be.  I give Tiny Fitness my best every day, and I embrace the fact that change and growth have a less-than-glamorous side.
It has been fun.
You guys teach me so much every week!  I am honored to know all of you – you have all come through so much to be where you are, and your dedication is so inspiring.
I will confess: I didn't come into this studio with a plan.  In fact, after so many years of managing timelines and deliverables and spreadsheets, I very deliberately began with NO plan other than to follow my heart.  No projections, no Gantt charts, not even a to-do list.  I wanted to let things grow as they needed to, and GROW they have – from just three training clients at the start to more than 70 training hours per week right now across four trainers! (Thank you!!)  Even as we get a little less tiny, I'm still committed to keeping things flexible and fun because I'm here for each and every one of YOU.
Thank you for sharing this journey with me so far…
…and here's to at least three more years!  I look forward to growing with all of you.  Thank you for helping Tiny Fitness become better every day.
PS – I wanted to share this with you because I know it can be scary and awkward to commit to a change like eating better or working out, but ALL changes have that side – and they also have the fun and rewarding side too.  Don't ever give up on yourself, because you really CAN reach your goals, and yes I really do mean you.  You are so worth it.