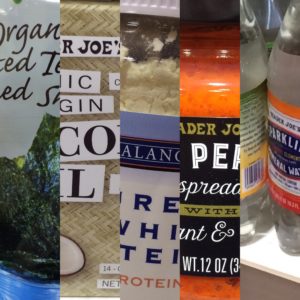 Trader Joe's has a lot of healthy staples at affordable prices (just a fact – this post is in no way sponsored), but they also have a lot of delicious junk food in cute packaging. Here are five of my current favorite finds from Trader Joe's and some tips for making the most of them…plus an honorable mention product at the very end. We've got snacks, we've got pantry staples, and we've got a universal sauce that works with any meal or snack and can even count as a serving or two of vegetables!
1. Teriyaki Seaweed Snacks
I impulse-grabbed these nori snacks while in the checkout line and I have no regrets. These sheets of teriyaki seaweed are like a salty-sweet sheet of delicious paper, in the best possible way. The environment doesn't love the single-serving packaging, but I adore these as a burst of flavor when I'm looking for a crunchy snack but not in the mood for carrot sticks or apple slices.
Other ways to use these seaweed snacks: crumble them on rice, wrap one around a piece of string cheese, spread them with cream cheese and any other toppings that you have handy and roll them up for a salty snack, wrap around cooked tofu for a snack or as part of a meal.
2. Red Pepper Spread
Trader Joe's version of ajvar is a flavorful red pepper paste – don't worry about the eggplant and garlic claims, because you won't taste them.  This spread isn't spicy, but it is well-seasoned and well-balanced; it won't add a vinegary, sweet, or salty flavor to your food, just a nice gentle red pepper presence, kind of like a red pepper ketchup. As far as I'm concerned, this spread goes on everything: lentils, chicken, scrambled eggs, meatballs, green beans, peas, sandwiches and wraps….  I've never tried it on or in anything and not liked it.
Bonus: this spread is basically all veggies, so if you're looking at a plate of beige and white, drop on a few tablespoons of red pepper spread and consider it a better-than-nothing serving of vegetables!
3. Egg White Protein Powder
Wait just a second – I don't use this protein as a shake.  I have friends who do, and they swear it's flavorless and not lumpy, but I haven't yet tried it.  However, this egg white protein powder is one of my baking staples!  I substitute it 1 for 1 for up to 3/4 of the flour in any recipe to get an extra protein boost – or to take a cookie recipe and make it into something that makes sense as a breakfast food.
Another favorite use: 2-ingredient pancakes! Mix 2 eggs with about 2 tablespoons of this egg white protein powder (the exact amount depends on the size of your eggs), then cook on a hot griddle until each side is lightly browned.  They come out super fluffy and ready to be doused in whatever flavor you prefer (since they themselves don't pack all that much flavor).
4. New Sparkling Water Flavors
Pineapple. Cranberry Clementine. Island Colada. These sparkling mineral waters -a.k.a. seltzer, but I won't tell if you don't – are super carbonated and bursting with fruity flavor.  Since they are seltzer water, they don't contain any sugar or artificial sweeteners.
You can drink them as they are, of course, but I'm loving them with the addition of lots of ice and some crushed frozen fruit (just whiz the fruit in your blender to make frozen fruit bits).  Cranberry Clementine water + chunks of strawberry and a little mint = icy perfection!
5. Coconut Oil – To Go
When I travel, I often bring coconut oil with me in a little tupperware container to use as emergency lip balm, moisturizer, and oatmeal add-in (I make a lot of hotel room oatmeal!).  While that might be slightly more environmentally friendly than these premade packets of coconut oil, the toll when the tupperware opens spontaneously in my carry-on, even if it's in a zip-loc bag, is pretty high.  These packets solve that problem at a really affordable price.
Not sure why you would bring coconut oil with you?  You can mix it into your on-the-go oatmeal, yogurt, smoothie, or coffee, use it after a long flight to get…things moving again, dab it on for cosmetic emergencies to fix dry skin, remove makeup, or tame flyaways, and grease the floor around your desk to keep your co-workers from sneaking up on you.
Okay, not the last one.  I just wanted to make sure you were still awake.
6. Honorable Mention – Roasted Beets
These get an honorable mention in part because I finished them all before I remembered to take a picture of the actual beets, and in part because vegetables aren't really a product.  These golden beets were so convenient, and I love that they weren't seasoned – I heated them as part of a rice bowl, I ate them cold on a veggie plate, and more than anything I appreciated that I didn't have to peel or cook beets.  For some reason, peeling beets is a task that seems to take forever in my head, so I don't eat them as often as I wish I would.  Golden beets don't have a particularly strong flavor, so you can hide them in a lot of dishes and get all of their nutritional benefits (iron, folate, potassium…) without being overwhelmed by beet-iness.
---
Do you have any Trader Joe's favorites? Leave a comment and tell us what we should be buying!
Save